We hope you'll be as excited as we are to receive an update on the 3 projects which received funding at our inaugural Pitch Night last November.
We are so proud of the success of our inaugural Give500 program and would like to thank our 2021 donors who made it all happen!
Junction Support Services – Therapy Dog Program
As winners of the inaugural Give500 grant, Junction Support Services received a $15,000 grant to establish a Therapy Dog Program, with a Labrador puppy named Toast chosen for this role.  Whilst he is still young and going through general obedience training, he will soon commence his therapy dog training.  He is already an important part of everyday life at Junction Support.
At our Give500 2022 donor gatherings, we heard from both Cassie and Rachel from Junction about the positive impact Toast is having on their service, even in these very early days.  He has been able to settle some of their young clients who live with trauma or in chaos and is a comfort to staff whose work can be challenging.  We all wish it wasn't the case that some children live in such circumstances, but we feel a level of comfort knowing that Give500 has enabled the commencement of this valuable program.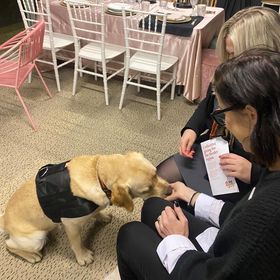 Survivors of Suicide & Friends – Solstice the Documentary
As one of our runner-up projects, Survivors of Suicide & Friends expected to receive $2,500.  On the night, you'll remember the surprise announcement of an additional $4,000 for both runners-up funded through our Handbury Foundation & ACE Radio 2AY Sub-Fund.
But the night kept on giving with some donors feeling compelled to fully fund the completion of the Documentary, and that is exactly what happened.  Solstice the Documentary is now completed and has been launched into the world.  What an amazing achievement.
You can see a little clip of thanks from filmmaker Helen Newman and Annette Baker from Survivors of Suicide and Friends here. 
A cut-down version of Solstice the Documentary can be seen on Compass, ABC TV this Sunday 26.6.2022 at 6.30pm.
Aspect Riverina School – Resilience on the Spectrum
Our second runner-up, Aspect Riverina School was overwhelmed to receive the top-up of $4,000 from Handbury Foundation & ACE Radio 2AY and since that time worked hard to develop the kitchen garden, healthy eating program and train for their Mt Bogong challenge.  We received an update on their project yesterday which can be found here.
Excitingly, in early May, they took on Mt Bogong.  "Further exciting news is that our students have trained for and attempted the summit of Mt Bogong. They have indeed developed a wonderful team spirit and resilience during the process of training for and climbing Mt Bogong. They nearly got to the top, however the unseasonal snow fall that happened the week before our hike slowed them down, resulting in the fact that they needed to turn back before the summit in order to be walking in daylight. It was a massive day- leaving school at 7.00am and returning at 7.00pm. All very proud of themselves and suitably exhausted. All but 2 were back at school the next day!!! We are using this amazing experience to link to further resilience training and strategies, even though they have demonstrated resilience in spades".
If you would love to be apart of this wonderful campaign in 2022 visit www.givenow.com.au/give500 before June 30 2022.